Did you know AirPods just became the second-best selling product of Apple in just 3 years? Apple started with concept of AirPods somewhere in 2015 with a shell company registered in Delaware, USA. Apple used this shell company to file a trademark without announcing the product in the public.
On September 7, Apple announced AirPods with headphone jacks removed in iPhone 7. After the announcement, AirPods became a mockery all over the internet due to it's weird long shape, expensiveness and being the first earphone without wires, not even between the earpieces.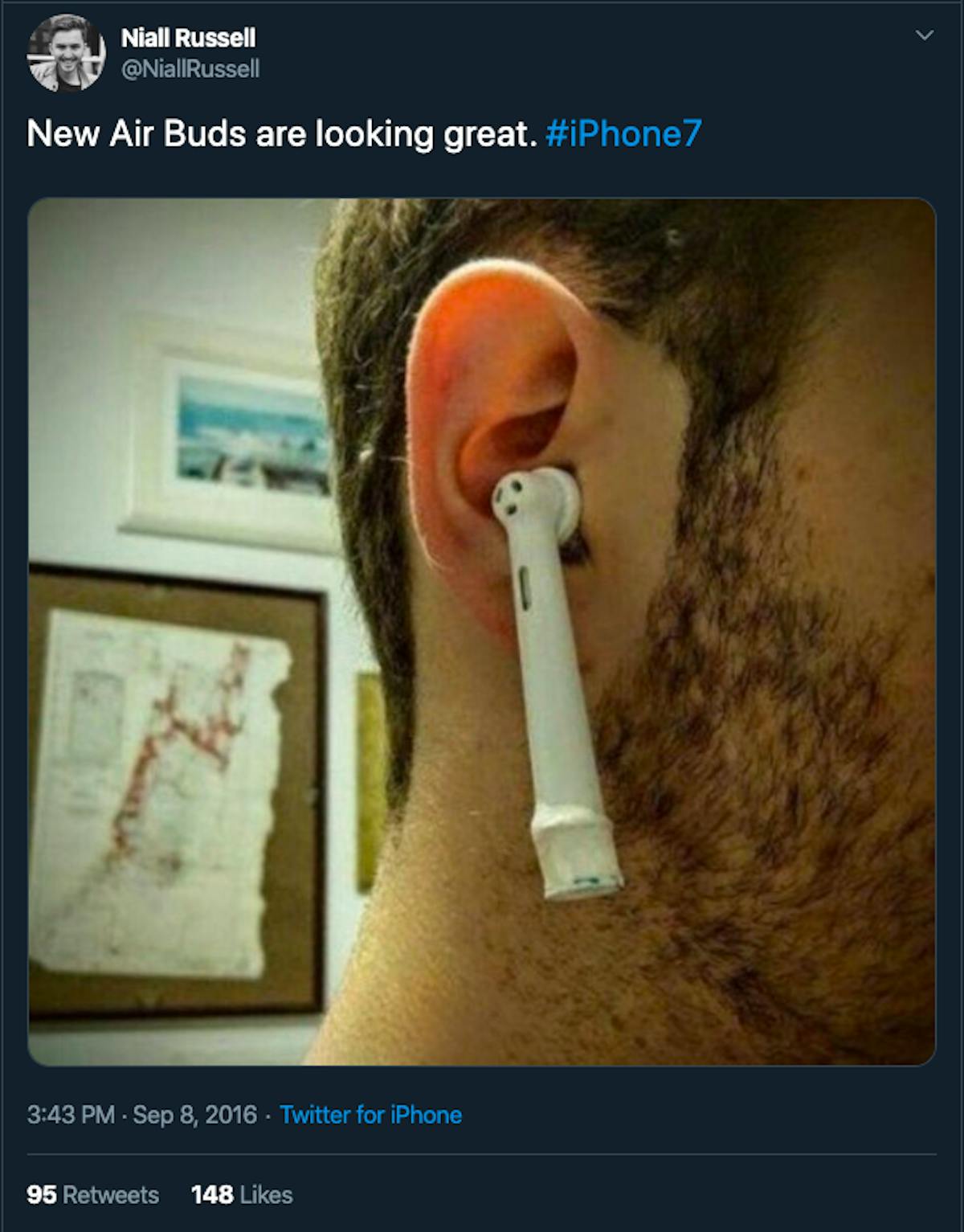 While there were memes and videos mocking AirPods all over the internet, AirPods were going viral and taking over the internet. There was some type of people who were interested to experience a truly wireless earphone. AirPods saw a hockey-stick growth in google search when it was unveiled.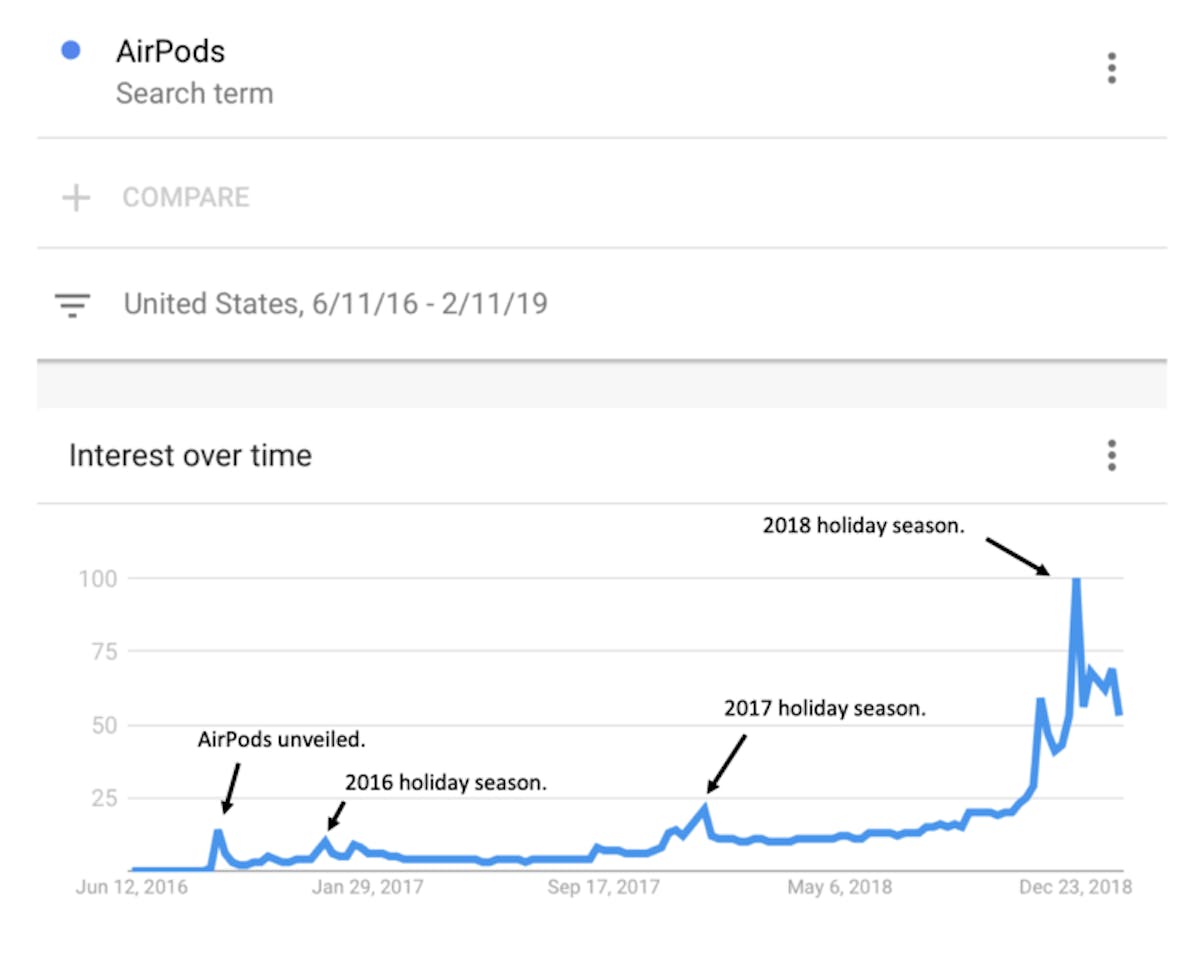 The expected launch date was in late October, but they delayed the launch to Dec. AirPods was launched on dec 13, 2016. Apple was having 0% market share when they announced in 2016. And, when they launched it, Apple gained a whooping 26% market share in wireless headphone category by the end of the 2016.
Source
AirPods surpassed the sales of all wireless headphones sold during Amazon Prime Day, Cyber Monday, Black Friday and came to the top just after launching.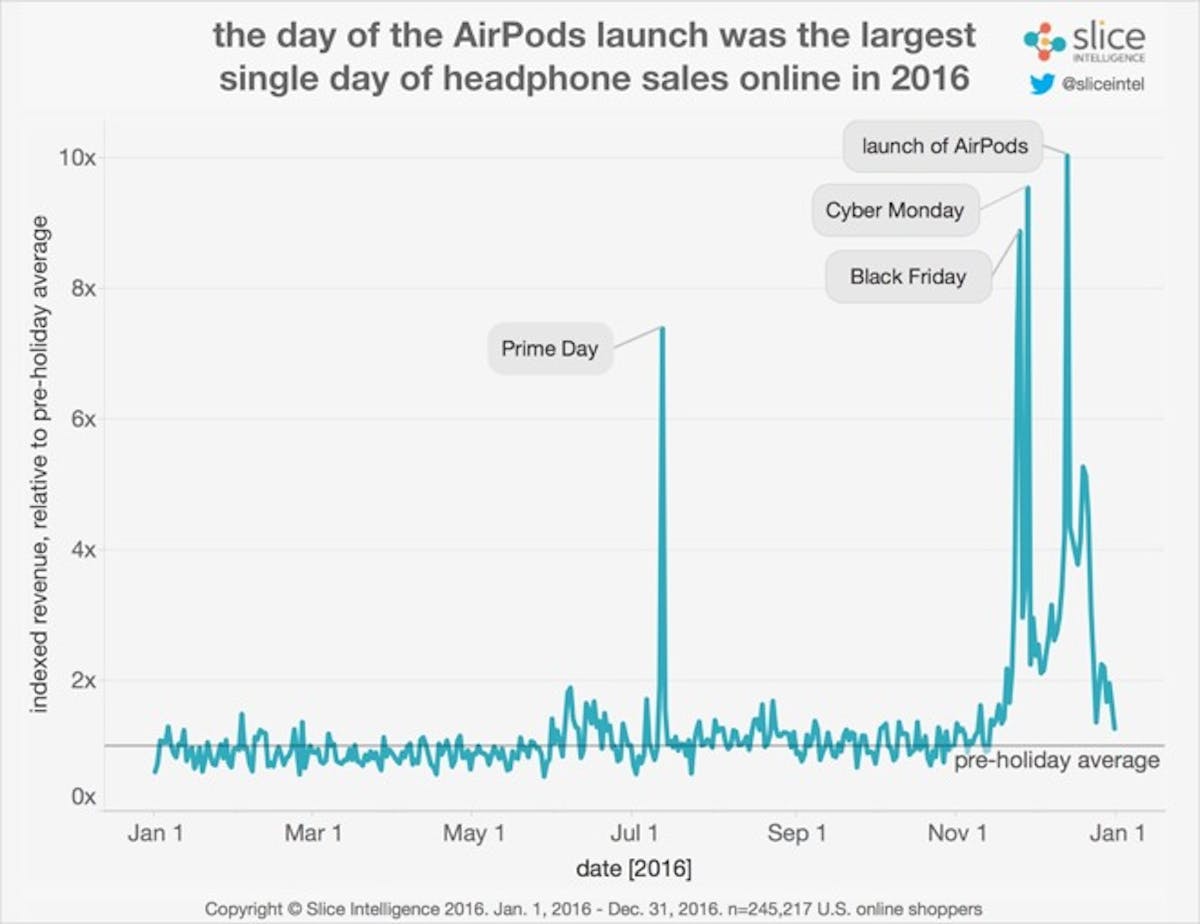 In 2019, Apple has >45% of market share and sold 50-55m pieces with a price of $159 resulting in $6 billion dollars in annual revenue. It's quite exciting to see how they managed to work this out.
How AirPods got so much popular?
While memes made AirPods the part of a culture, little delightful moments AirPods created, provided the best marketing Apple can have: Word of Mouth. AirPods got better with every new release. There are many reasons AirPods is a success now.
Memes
After the announcement in Sept, 2016, AirPods became viral with Memes and Videos. Apple got a free publicity with memes getting popular on all over the internet. With people posting memes on social networks, it got covered by many popular content websites like Buzzfeed, Mashables and many others. Apple also delayed their launch from October to December giving them time to reach more audience. With the memes, the sales took off on launch day as millions of people bought it.
Product innovation leading to word of mouth
Truly wireless earphones
While there were wireless earphones in the market before AirPods, but none of them were truly wireless. They still had wire to connect between the 2 earpieces. Apple made a AirPods truly wireless earphones with no wires in between the earpieces. Apple heavily invested in the technology and made synchronisation between the earpieces seamless.
Easy to connect
Apple introduced W1 chip to connect with your apple devices without the need to sign-in. You just need to open the case they come-in, somewhere near it that turns it on, and iPhone finds the headphones and you are connected.
Sensors to detect if it's in your ear or not
Taking your pods out to order a coffee or taking it out to talk with someone, having your music back to life automatically when you pop in. Experiences like these made the users astounded and was successful in creating a wow moment.
Battery Technology
With wireless earphones, one of the challenges Apple had to solve was charging the earphones, as wireless earphones didn't required any charging. Apple introduced a wireless charging case where you can get a charge of 3 hours in just 15 minutes. And, with the technologies growing, now we are all trained to recharge everything everyday.
Dopamine hit with magnetised insertion
AirPods was able to provide idiot-glee dopamine hit every time with the magnetic case. For some people it became addictive as they opened, closed, opened again and again. While this may be seen as a stroke of good luck, Apple's Jony Ive said, they spent a lot of men hours in coming up this idiot-glee dopamine hit.
Most popular holiday gift
With the price point of $159, AirPods started becoming the most popular gift in every holiday season. Search for AirPods on Google doubled every holiday season. Further, Apple saw a growth of 500% YoY in Google search interest as compared to December 2017.
High visibility
A lot of people started wearing AirPods in outdoor activities like running, playing and working. Being white in colour, and without any wires attached AirPods attracted a lot of eyeballs.
With this massive growth and becoming the second best-selling Apple product, it is expected to sell 100m pieces and reaching $15 billion dollars in revenue from AirPods itself. With AirPods, Apple Watch apple is aiming to become a success in wearables.
Found it interesting? Subscribe to my newsletter and receive more stories like this.
PS: Don't forget to share it on Twitter or LinkedIn!